Digital Finance
---
Collaborate with Finance Business and multiple scrum teams throughout Agile process. I develop solutions to problems by involving both the internal and external users' perspective in all steps of the HCD process.
Project Challenges
Advanced Customer Service is a global program that will provide a customer-centric buy-to-pay process. Monsanto/Bayer invests multimillion dollars to create trusted relationships and experiences between growers, partners and Monsanto through an operating platform.
Detailed Process
My Design Thinking Process
Empathize
User research consists of two core activities: observing and interviewing. Observe and listen to people describing problems or situation without preconceptions.
Define
Define the problems, based on the evidence such as data analysis and interviews with business specialist Product capabilities are tied to customer journey to deliver holistic experience.
Ideate
Generate ideas for potential solutions to reframe and define problems (brainstorming)
Prototype
Visualize the idea, test with users, learn, iterate and repeat the process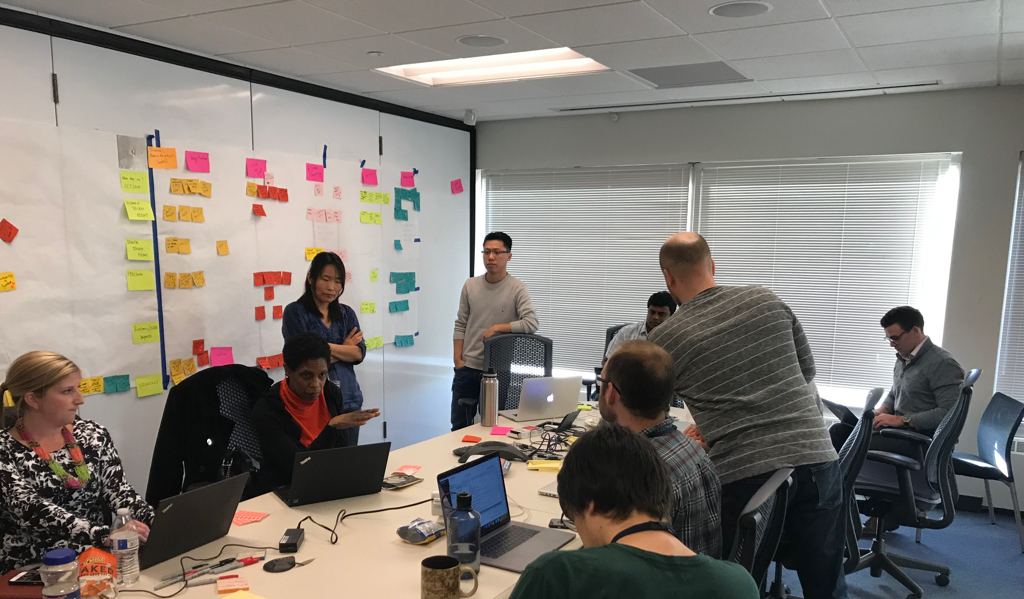 #1
Financing Application
What were the problems I discovered?
Manual reviewing process

Slow processing time (takes 20 days)
Hard to make changes
Lack of security
No visibility to check application status

High customer call volume regarding financing questions
How did I discover it?
In several discovering meetings with business partners, I understood the current process and the future process we planned. I also reached out to a senior researcher in our department to get a better understanding of users.
Usability Problems I Identified:
Filling application is a time-consuming task, users are not able to finish it at once.
In order to provide correct content, user need to move between several different fields.
Content missing and incorrect information provided are common errors.
Different documentations are required for different amount of credits.
Not easy for user to understand which fields are required.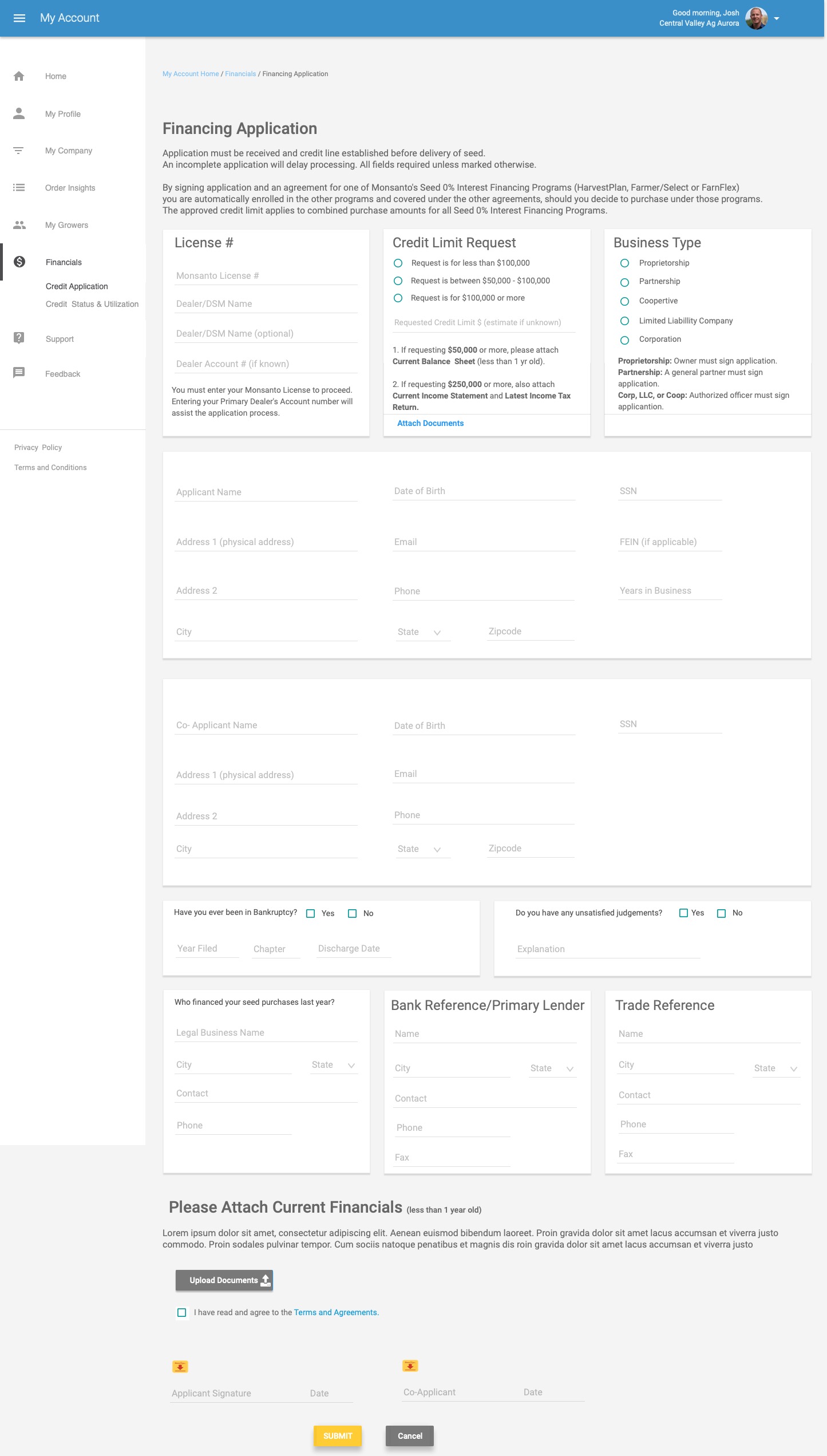 New Online Credit Application provides improved usability through updated step-by-step interface, and increased efficiency for all credit applications.
Ability to check application status
Dealer visibility into grower application and financing amount
Less time spent asking grower for more information
Less time spent fielding customer questions
Less manual data entry
Enhanced application reporting helps resolve issues more quickly
The Financing Application has been released in 2018. There are some of the success metrics I can share below:
Process time: 20 days → 2 days or less
Number of Applications: 1.6K → 3.7K
Credits of Approvals: $100M → $295M
Online Adoption Rate: 7% → 50% → (some of the brands will stop providing paper application)
Customer Calls (financial issues): 20% → 9%
Success Metrics:
#2
Credit Application Internal Tools
Business Needs & High Level Requirements
As a Credit Analyst, I need to easily view all previously submitted application documentation in one place.
As a Credit Manager, I want to manage current application status by several different criteria such as processing time, sources, application status, duration time, etc.
Design Iterates Feedbacks:
It's not easy for internal user to share information with customers.
More critical search criterias that need to be provided.
Different roles may have different work process.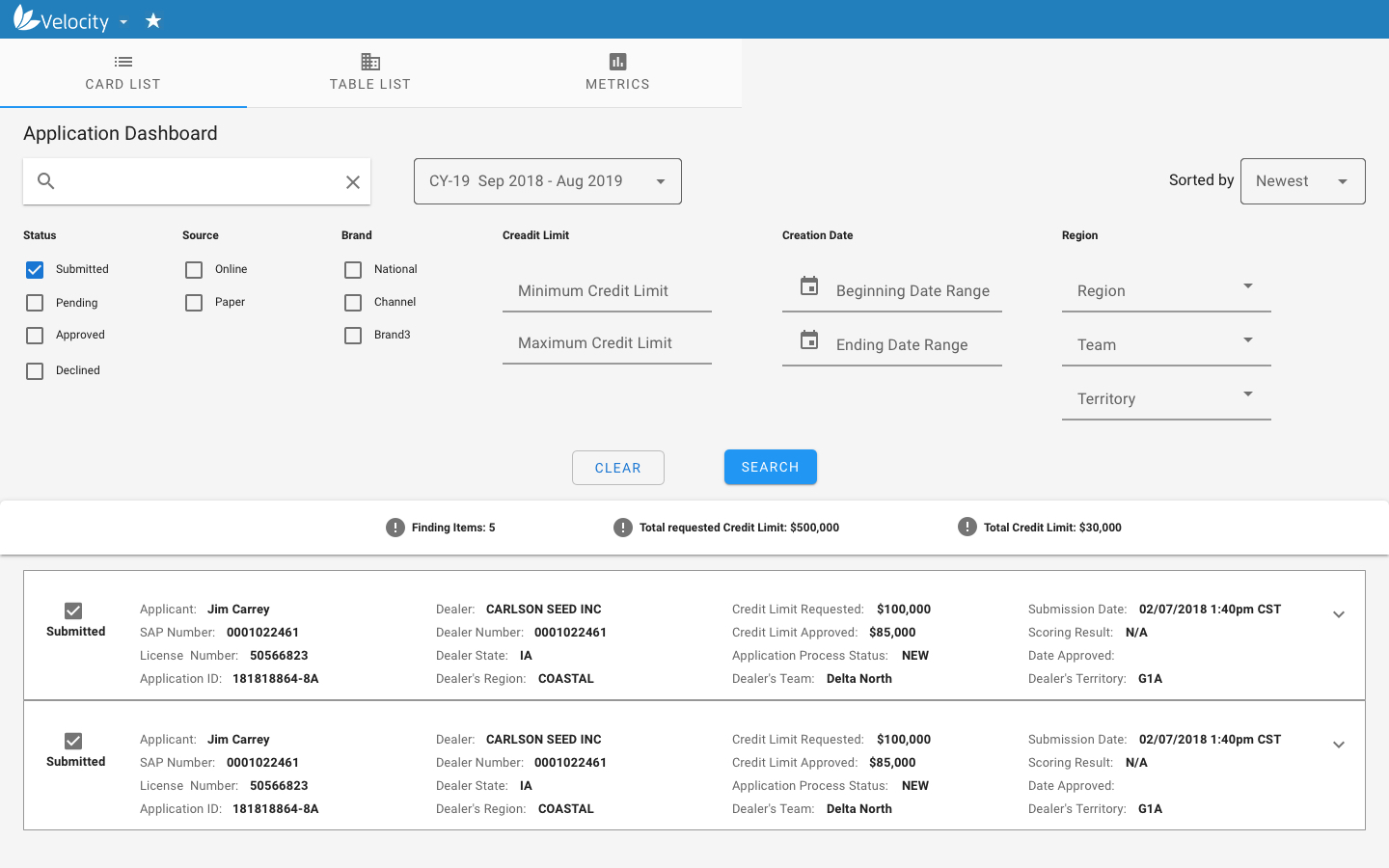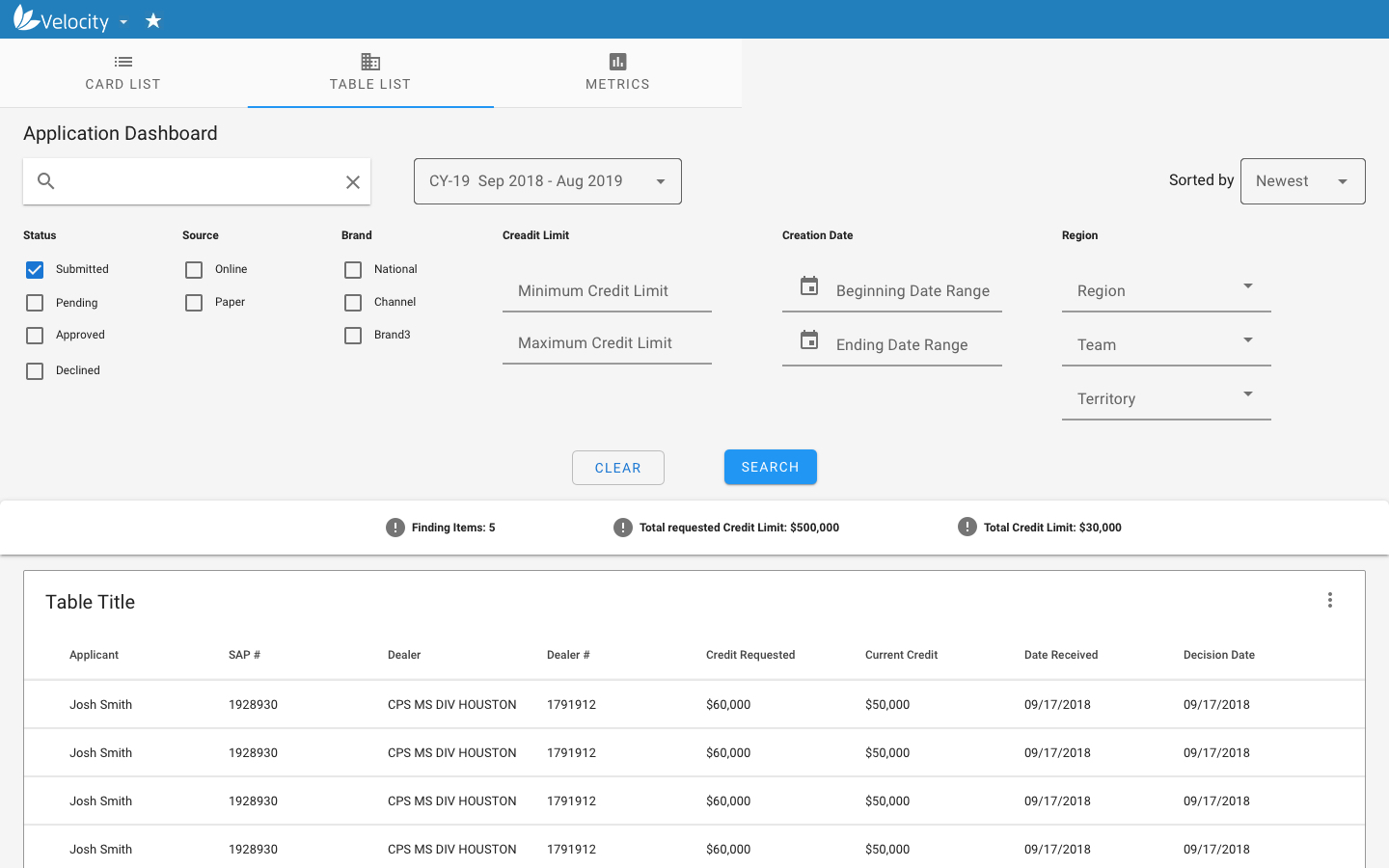 Final Design
The dashboard tool provides an easy to search and filter dashboard that has card lists, table list, and graphic metrics on online adoption, application status, and also provides information based on region, time (year, month, etc).