Ascension ID
---
I lead the strategic design process of Ascension Identity that begins from understanding problems, defining product scope, visualizing ideas to developing execution. We want to build a central identity management system, which will enable users to easily access Ascension resources by using one set of credentials.
"Commit ourselves to serving all people with special attention on those who are poor and vulnerable."
My Role & Design Process
I am part of the pitch team and responsible for strategic experience and design of web and iOS applications. The design process of this product is illustrated by the following graph. I lead the UX workflow (from step 1 to step 7), including producing all major deliverables and communicating internally with Product Manager, Business Analyst, UX Researcher, Communication Designer, and Developer.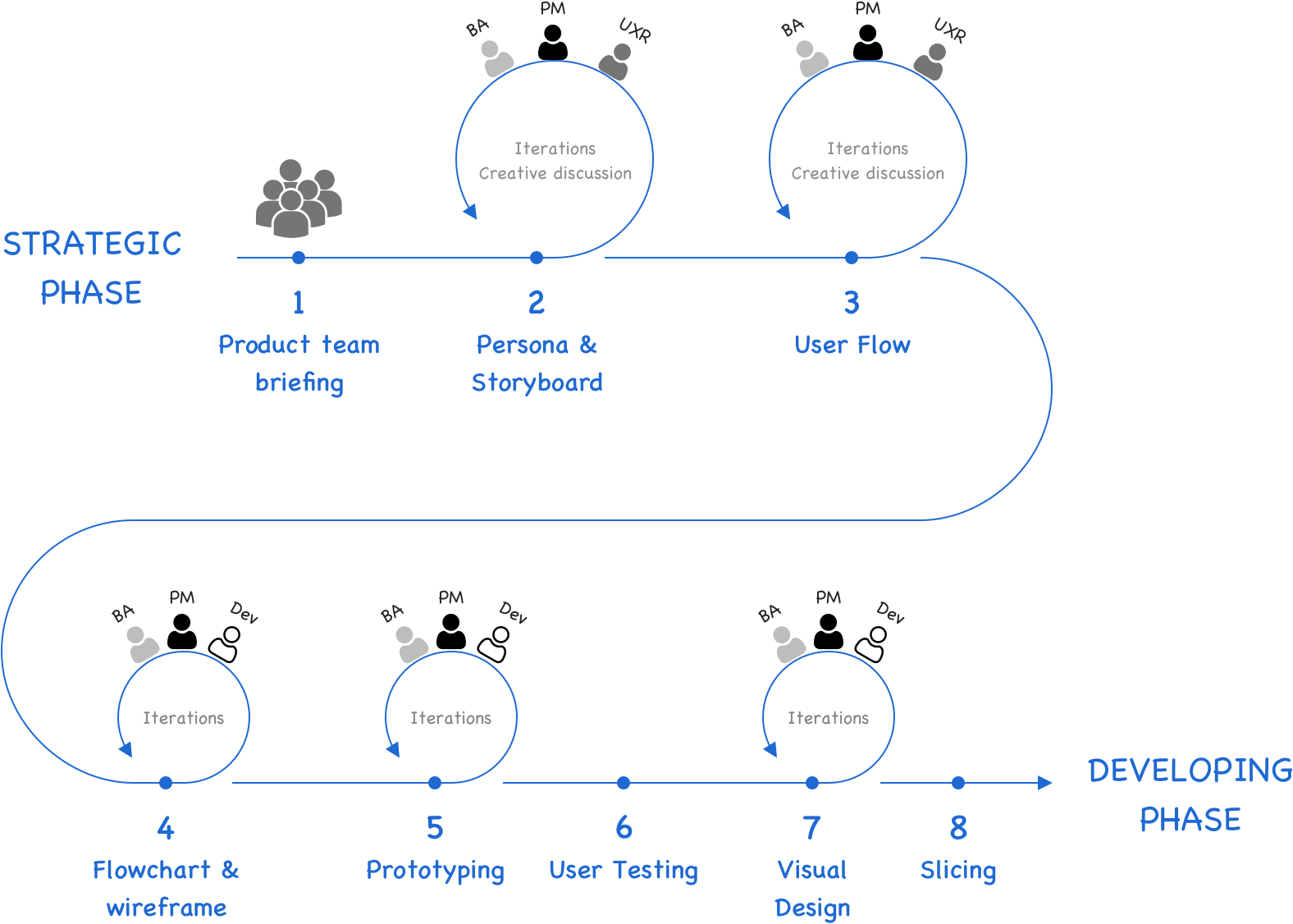 Goal: A single approach to authenticate and authorize users to all Ascension apps.
Why

Allow people to log in to all Ascension applications in only one, easy, and secure approach.

How

Simplize and centralize the Identity management system.

What

Authorization, Role management, Delegation, Multi-factor authentication, Single Sign On, Support Center
Challenges
Ascension ID needs to support 300+ apps and authenticate thousands and hundreds of clinicians, patients, and other users. After coordinating the timeline with different teams, we decided to focus on Surgical Tracker as a short-term roadmap. Building fundamental experience for frontline medical personnels is an important starting point from development perspectives and it also meets Ascension's product strategy.
My Approach: Focusing on
features

Goals

The Objectives and Key Results (OKRs) of this product have been defined when I joined the team. One of my missions is linking user journey maps and service blueprints to our OKRs.

By going through the journey maps and the service blueprints, I am able to work with the product manager and the leadership to ensure each of features we provide ties to our product strategy and has the best interests of users in mind.

To avoid jumping into solutions too early, I firstly did research to define personas and figured out how Ascension ID should support the users of Surgical Tracker. By referring to the persona, I have a better understanding of users' needs and expectations. According to my research, I recognized the main requirements that can be divided into two types: "Scheduler Authentication" and "Manager Authorization".

Storyboard
In order to provide better engagement with the persona and see them as 'real', I created a storyboard to illustrate the interaction between Office Scheduler, Office Manager, and Ascension ID.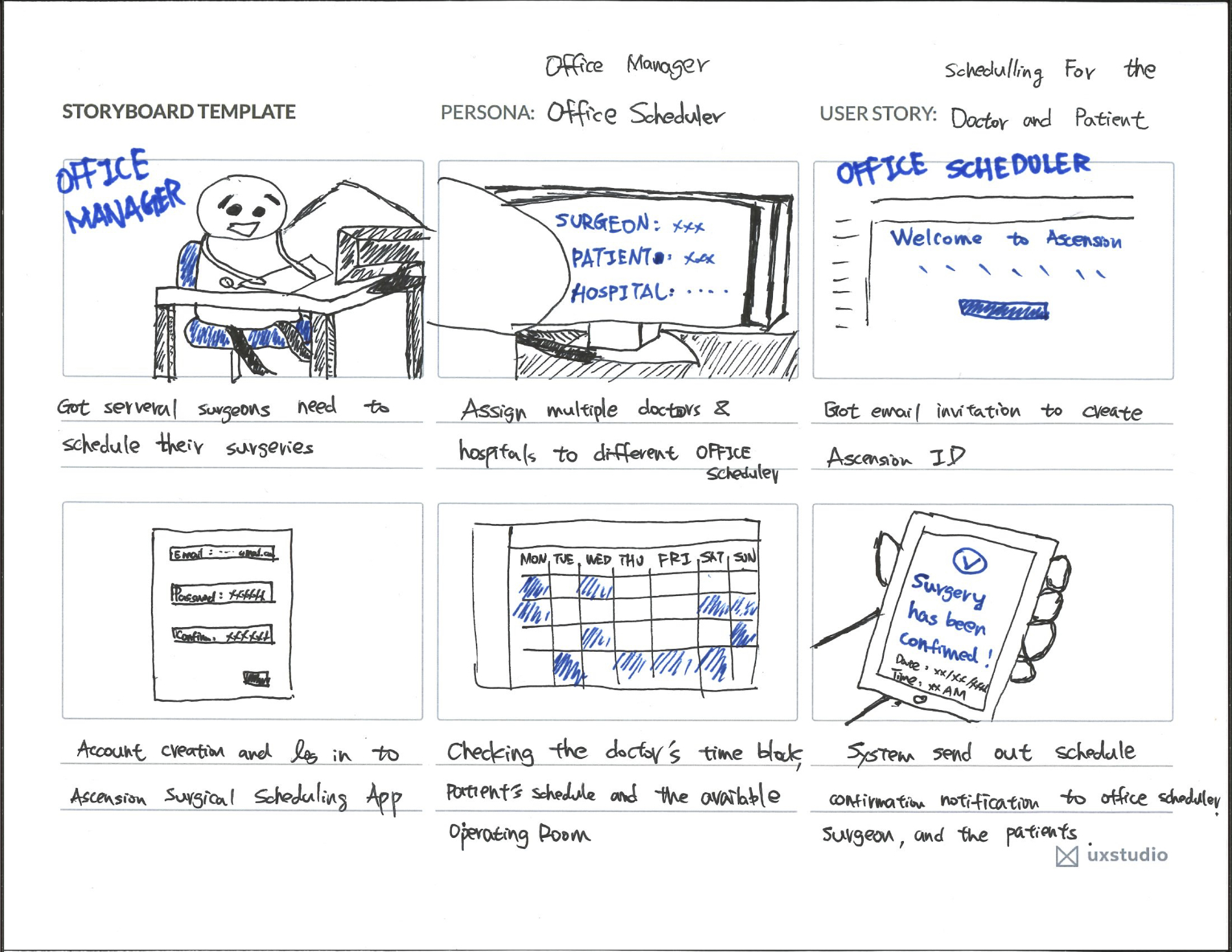 User Flow
Based on the stories from the persona, a flowchart was created to demonstrate a main structure and contents of this product. To ensure all stakeholders are on the same page about the scope of Ascension ID and feasibility of those features we proposed, the Surgical Tracker team was closely involved in this stage.
In the flowchart, the main features are a map with Point of Interests (POIs), actions, and behaviors of these three types of users - Office Scheduler, Administrator, and Surgical Director.
By visually seeing the persona, storyboard, and user flow, people tend to consider users during the development process and are motivated to create something meaningful. Besides, it also helps product teams prioritize feature requests based on how features address primary persona in the user flow. This approach doubtlessly benefits both the product and the teams virtually and physically
Flow Chart & Wireframe
From a basic function, I designed wireframes of user registration flow based on the personas and stories I had.
Improving Design With Critique
There is a saying, "Your first idea might be your worst idea." As a reminder, I like to have design critiques regularly and frequently. I always obtain a better result after seriously reconsidering design feedback from PM and BA, and technical perspectives of development feasibility from developers.
"Feedback is the breakfast of champions."
This iteration process provides the development team some certainty that their efforts are being focused on adding value to users. In addition, it also helps my designs establish a greater clarity for understanding product requirements and features in development lifecycles.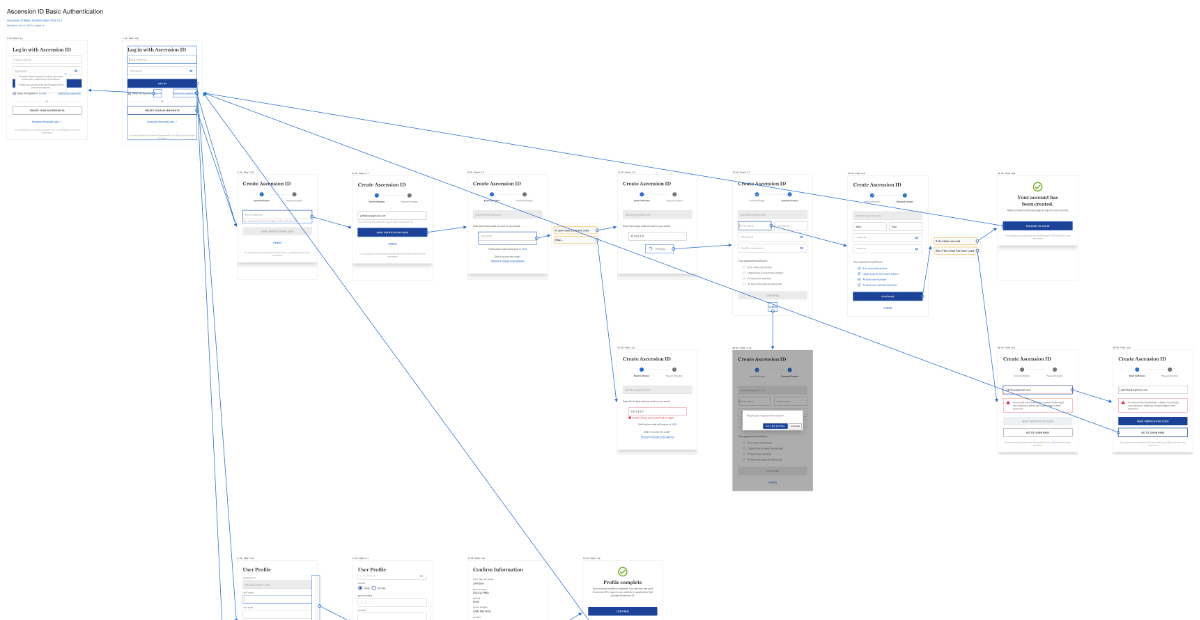 In wireframes, all discussed features were translated into screen-by-screen solutions with a logical flow. In the following graph, blue lines stand for moving forwards and red lines indicate going backwards. By following lines, I reviewed the entire user experience from an user's perspective and ensured this flow makes sense for real users.
Prototype
The clickable prototype was created by Invision. It is used as a mechanism to test design concepts and to get feedback earlier and quicker so that I could make improvements on my designs. It also helped me communicate with developers about the unconventional transitions designed in the product.